Company Name
Vanadi Coffee S.A.
Activity
Operation of the coffee shop, bar, restaurant, food delivery service, catering for any type of event and any other service related to hostelry.
Address
Calle Mexico 20, planta 5, derecha. 03008 Alicante (España) - Alicante
EPM Joining Date
25/01/2023
Founders Salvador Martí Varó y Vicente Terol San Román
Investors email contact
info@vanadi.es
We are a "Fast Good" coffee shop brand that proposes food and drink that follows the lifestyle of today's customer.
Vicente Terol San Román
CEO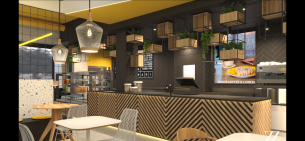 On the Road to BME Growth
11/04/2022 - Capital Disclosure
11/04/2023 - Bylaws modification BME Growth requirements
11/04/2023 - General Assembly & Board of Directors Regulations
11/04/2023 - Auditor Comission
11/04/2023 - Board of Directors
09/11/2022 - Transformation in PLC
(thousand of Euros)
2021
2022*
2023*
2024*
Net worth
12,43
705
4.730
5.741
Net business turnover
00
484
5.297
14.386
Financial debt
649
481
250
218
Ebitda
-55
-880
55
1.352
Net Profit
-47
-749
38
1.010
Average number of employees
00
35
154
300

* Proyection
Business Model
The business model is based on organic growth through its own coffee shops in areas where there is a demand for consumption of healthy and quality food, pivoting the project around the quality of the products and the excellence of the coffee.
We do not seek to compete with Premium brands, but to position ourselves alongside traditional cafeterias in terms of price, offering a friendly environment, with careful decoration, with the use of technology and a quality, healthy and responsible product.
Competitive advantage
VANADI aims to offer products and services with a high added value perceived by the client (affordable prices, quality product, technology and digitization, "healthy" approach, cared for environments, innovation, etc...) in areas that the big brands do not pay close attention and take advantage of economies of scale to compete with traditional coffee shops with tools that are generally not within their reach.
Scalability
We propose a concept conceived from the beginning to be scalable and replicable. VANADI coffee shops are designed to be able to easily adapt to different scenarios (location, surfaces, type of customers, etc…). The optimization of our processes and our central structure allows us to be agile and efficient with the openings and start-up of the shops, as well as with the monitoring, supply and management systems of all the coffee shops.